Mekong Homes' innovative and collaborative approach means that each house is designed to serve the main functions of rural living space, as well create a positive living experience for residents and the wider community.
We use architectural work based on lived experience alongside detailed ground research to preserve the same style of Khmer House that represents the beauty of the countryside.
The variety homes available reflects the diverse needs of families in rural and regional areas.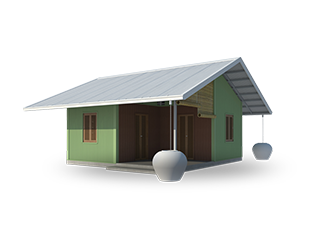 Single story, Khmer style home with multi-functional courtyard 4 - 6 person living capacity 1 x master bedroom and optional second bedroom using divider Bathroom and kitchen in a separate structure detached from the house Suited to areas on higher ground...
What our customers are saying
Mrs. Som Chana, Farmer, Takeo Province
After I bought Mekong Homes, I can live better than before. Now we have a beautiful home, a clean bathroom as well as clean water. Mekong Homes helps my family a lot and my children are not often sick like before. Whenever people visit my home, they always admire that my home is beautiful.
Mrs. Neang Sokunthear, Business Owner, Takeo Province
When I lived in my old home, I could only do my work at night because it's very hot during the day. I had to do my work from evening time until 10 pm. But with my new home, Mekong Homes, I can sew both daytime and night. I can sew for my customers on time and produce more quantity, which is better for business.
Mr. Sao Oeunvanna, Farmer, Takeo Province
It is usually very expensive to build a concrete home but Mekong Homes is affordable for me. The quality is good and that's very suitable for us who live countryside.
Mr. Mourng Sambath, Farmer, Takeo Province
I visited the Mekong Homes showrooms and saw the beauty, wide space, and strength of them. It was then that I decided to buy Mekong Homes. I like the spaciousness the most because it is beautiful and wide. When guests visit my home, even 20 to 30 people, I don't have to worry about it.
Mr. Phon Vorn, Constructor, Takeo Province
When I was living in my old home, it's very hot. It's also noisy when it rained and we had to remove our belongings from the leaking place. But now with Mekong Homes, I don't face those problems anymore and I can sleep very well. The materials for building homes are really good. I know it because I am also a constructor.